Players - Dennis Caplinger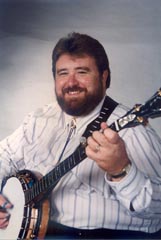 Dennis Caplinger is a multi-talented musician who has toured and recorded with many different artists including Bluegrass Etc., Eric Clapton, Vince Gill, Nickel Creek, Chris Hillman and Herb Pedersen, Byron Berline, Dan Crary, Richard Greene, Chris Thile, Sean Watkins, John Reischmann, Ray Park, Jann Browne, Kevin Welch, Kelly Willis, Ray Price, Rita Coolidge, Buck Howdy, Tim Flannery, Eve Selis and The Academy of Country Music Awards Show Band. His busy touring schedule as Banjoist/Fiddler with Bluegrass Etc. has taken him all over the world and yielded three critically acclaimed albums to date; their latest, "Home Is Where The Heart Is" was voted one of the top ten bluegrass recordings of the year for 1999 by the Chicago Tribune.
A highly sought-after player/producer in the West-coast studio scene, he has worked on countless jingles, commercials, cartoons and movies and has his own production company based in Vista, Ca. Dennis is actively producing and playing on projects for CMH records popular "Pickin' On" series – featured records he has been a part of include tributes to Eric Clapton, Santana, Creed, Rolling Stones, Led Zepplin, Bonnie Raitt, Jim Morrison, Queen, Neil Diamond, Dave Matthews Band, R.E.M., Z.Z. Top, Lynrd Skynrd, Black Crowes, Phish, Dolly Parton, Brooks and Dunn, Lonestar, Lee Ann Womack, Jo Dee Messina, Tim McGraw, Montgomery Gentry, Keith Urban, Tracy Byrd, Leann Rimes, Indigo Girls, Rod Stewart, Nancy Sinatra and Van Halen.
His movie soundtrack credits include "Back to the Future III", "El Diablo", "Rio Diablo", Steven King's "Apt Pupil" and the current HBO series "Deadwood" among others. Dennis' playing is featured on the soundtrack of "The Simpsons" and Warner Bros. cartoons "Pinky and the Brain" and "Histeria", as well as on numerous programs on PBS, A&E, TNN and The History Channel. Recent commercials include "New York Life", "Supercuts", "Subway Sandwiches", "Home Depot", "St. Joseph's Aspirin", "Applebee's", "Discover Card" featuring John Lithgow, and "Cingular Wireless", which Dennis appeared in along with Bluegrass Etc. Dennis has contributed to Banjo Newsletter and can be seen in the October 1999 issue of Bluegrass Now magazine, which contains a feature article on him.