Players - Raul Reynoso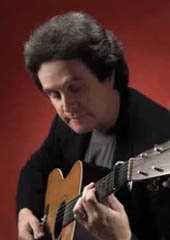 Raul Reynoso, guitarist, singer, and composer, was born in Los Angeles, California. His expertise in a variety of guitar styles has put him in great demand in the recording studios, as well as in live performance. His abilities as a teacher also keep him busy with guitar clinics and workshops.
Self taught on guitar, Raul began playing Bluegrass guitar in 1974, and soon acquired the skills that would earn him two California State Flatpicking Guitar Championships as well as many Western Regional titles.
Introduced to the world of jazz guitar, Raul began to study the styles of Eddie Lang, Dick McDonough and Charlie Christian. One of Raul's prize possessions is a late 30's vintage ES-150 and matching EH-150 amplifier as used by the great Charlie Christian in his work with Benny Goodman. Barney Kessel, Jimmy Raney, Tal Farlow and Joe Pass have all been important influences. Hearing the great Joe Pass recording" For Django," opened the doors to the music of Django Reinhardt.
Upon hearing the music of the great gypsy guitarist, Django Reinhardt, Raul began to focus his studies on Gypsy-Jazz. He soon acquired a very rare original1940 Selmer guitar and began transcribing Django solos from the original recordings. This led to the formation of the "Rhythm Brothers" band with John Jorgenson, Doug Mattocks, Charlie Warren, and later, violinist Paul Shelasky. This group featured the music of Django as well as songs by the Nat King Cole Trio, the Boswell Sisters, and the Spirits of Rhythm.
Raul's musical odyssey also led him to study the music of less well-known guitarists such as Jean Pierre "Matelo" Ferret and the great Argentine guitarist, Oscar Aleman. These legendary guitarists, along with Django Reinhardt, have been important influences in Raul's own musical compositions.
The recent release of Raul's self-produced CD, "Royal Street," which features the Rhythm Brothers and special guest violinist Johnny Frigo, has brought Raul international acclaim from Jazz reviewers in the U.S., UK and Europe. The instrumental and compositional skills displayed on this, Raul's first solo CD, have solidified his position as one of the world's finest guitarists. As music critic Jim Hilmar put it: "When it comes to guitar styles… Raul Reynoso's clean, lithe, articulate picking technique is 'to die for!'"